Three ways to get GREAT domain names (without spending a lot of money)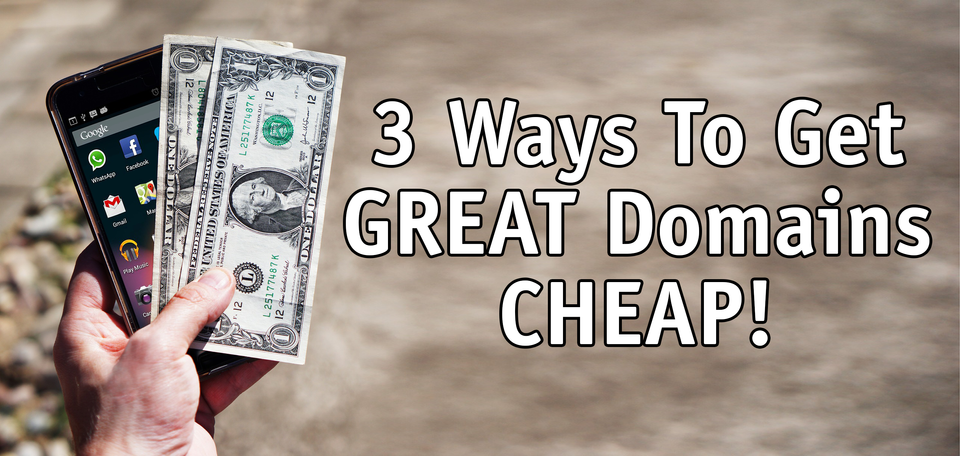 Whether I'm buying a domain for personal use or buying a domain with the intent to resell it for a profit, I want to buy them for the lowest possible price (which would require the domain name to be available or 'not taken').
Well, the reality is that MOST of the 'good domains' are already taken. But that doesn't mean that ALL of the 'good domains' are taken.
Here are my THREE FAVORITE WAYS to get GOOD domain names WITHOUT spending a lot of money.
First, PAY ATTENTION:
This is how you can register new domains for just $9.
New words, terms, and phrases are created all of the time. Language is always changing and that means that there will always be new opportunities to pick up some potentially valuable domain names. All you have to do is pay attention and then take action.
Basically, just stay on top of the news, current events, and trends. You DO NOT have to go crazy and monitor everything on the internet. Just find a website or two that you can check once or twice a day to stay up to date on politics, sports, weather, etc.
Personally, and this may make me sound old, but I simply check YAHOO.COM a few times a day. I find that they have a good mix of current events without being politically one-sided or too heavy on celebrity nonsense.
If something looks interesting or promising, I quickly go to https://instantdomainsearch.com/ and see if it's available.
If it is, I'll consider placing what I call a 'cheap bet' of $9 to register the domain for one year. Then, I'll have 365 days to decide what to do with the domain.
Second, SEARCH Expired Domain Auctions:
This will mean spending more than the base price of $9, but it's how you can get some great UNDERPRICED domains.
I check The Godaddy expired domain auctions DAILY because literally HUNDREDS of domain auctions end every single day.
I also check NameCheap auctions (but honestly they aren't usually as interesting as Godaddy auctions):
https://www.namecheap.com/market/auctions/
Remember, ANY expired domain has already been registered at least once. This means that at least one other person saw enough VALUE in the domain to PAY MONEY to register it. This is not definitive, but it can be a SIGNAL that a domain may have value (the original owner may have even just forgotten to re-register it).
Then, just pay attention to the time that the domain auction ends and place your bid. Some domains can bid bid up to prices that no longer make the domain attractive to resell. Maybe someone else wants it for personal or business use and they're willing to spend a little more to get it. If the price gets too high, just let it go (there will always been more domain auctions).
Third, check domain marketplaces for UNDERPRICED domains:
The domain market has lots of OVERPRICED domains (that are unlikely to sell) and they also have lots of UNDERPRICED domains.
You just have to FIND THEM.
Just because a domain is taken, that doesn't mean that it's not still available. Many great domains are registered and offered for sale on domain marketplaces like https://sedo.com/.
I will frequently check a domain on https://instantdomainsearch.com/ to see if it's been registered. I can quickly see if it's available to register (GREEN), if it's taken (RED), or if it's FOR SALE (BLUE).
If you're patient, you'll eventually stumble onto some great domains that are UNDERPRICED. This is exactly how I found DomainFlips.com!
I do have a FOURTH WAY to get some great domains for below-market value that I'll share with you later this week.
I'm also working on a book and a course and I will be running a Domain Challenge soon. All of the information is on the new website, DomainFlips.com.
I also have a new DomainFlips Newsletter (free) for exclusive domain content.
Join here: https://www.domainflips.com/#/portal/​
When you join the DomainFlips Newsletter, you'll also get a private link to access to my new DomainFlips Facebook Group!
I will be sending out more information and updates via text and by email. ​ ​To get these updates, TEXT ME at (512) 790-7040 ​​
Or click this link: https://my.community.com/chrisgreen (If you're outside of the USA, the number might not work, but don't worry; I will still post update on Facebook and send out the updates via email.) ​
Questions? Just ask! ​